Title:
Come to Me Softly
Author:
AL Jackson
Series:
Closer to You #2
Publisher:
NAL
Release Date:
July 1, 2014
Genre:
New Adult
More Info:
Goodreads
Purchase:
Amazon US
Purchase:
Barnes & Noble
A second chance at life…
A second chance at love…

Jared Holt never thought he deserved either—until he found both in the arms of Aly Moore. Aly has loved Jared for as long as she can remember, and she's more than ready for the future they're making together. But Jared can't help remembering his own family. And he'll never forgive himself for what happened to them. How can he allow himself the very happiness he once destroyed? 

To live a life worthy of Aly, Jared knows he has to stop running and finally put his past to rest. But when he decides to face his demons head on, he encounters more than he bargained for: a dangerous mix of jealousy, lies, and dishonest intentions. When those intentions threaten Aly, Jared loses all control, giving into the rage that earned him his bad boy reputation years before. And he'll fight to protect her no matter what it costs…even if he destroys himself in the process.
Happy Release Day to A.L Jackson as we celebrate her new book Come to Me Softly!

Trailer
*Enjoy the trailer created by the wonderful Becca the Bibliophile*
Be sure to join us for the Come to Me Softly Read Along Party! We're kicking off the celebration on June 24th with a ton of prizes, then the read along begins. Daily prizes all the way up to grand prize on July 2nd!
Grand Prize: Coach Bag stuff with A.L. Jackson Goodies!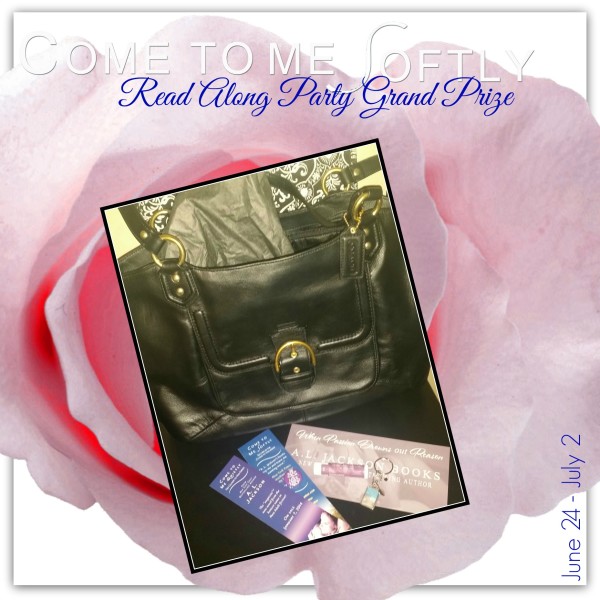 Giveaway
Come to Me Softly Release Celebration Giveaway!
Grand Prize: Coach Bag, Kindle Paperwhite, and A.L. Jackson Swag
Second Prize: Come to Me Quietly Custom Charm Necklace
Third Prize: A.L. Jackson Swag Pack
---
Aleena Moore is content with her life. She has goals and dreams and an easy smile. She also has a secret she holds locked inside.
Jared Holt believes he doesn't deserve to love or be loved. He destroys everything he touches. Haunted by the mistake that shattered his life, he's fled from the memory of that pain.
Jared doesn't know why he's compelled to return, but finds himself drawn back to the place where it all began. The exact place where it ended. When he runs into his childhood best friend, Aleena's older brother Christopher, he agrees to share Christopher and Aleena's apartment while he looks for a place of his own.
Aleena is no longer the little girl Jared remembers from his past and evokes feelings in him he never wanted to feel again. Terrified of destroying her, he fights to keep her away. But her touch is something he can't resist—the touch that sealed his fate.
Their pasts are intertwined and their futures uncertain. The only truths they know are the secrets they whisper in the night.
Related Posts